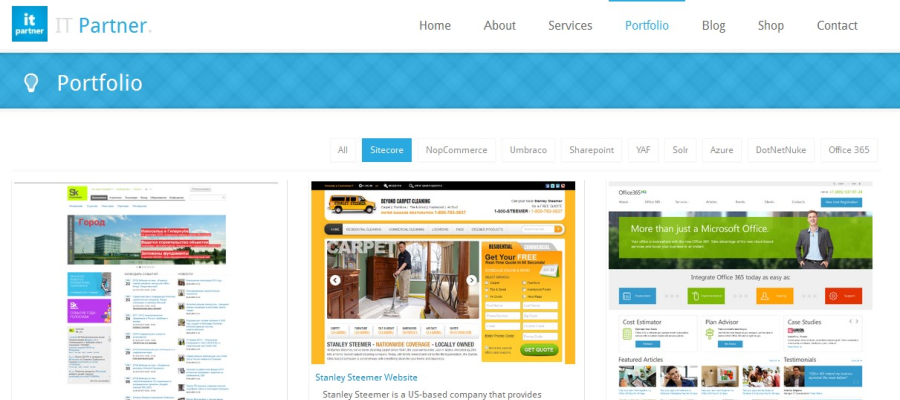 Project Description
Product Description
Project:
Dev Partner has develop Sitecore/Umbraco based website to increase sales volume while also generating leads.
The website is incredibly responsive, with a refreshingly clean design and it has some awesome features, panorama sliders, fancybox, isotope, infinite scroll, google maps, facebook open graph and many more!
The website is created by using the latest HTML5 and CSS3 techniques. With a responsive design it great work with any device (desktops, tablets, smartphones, etc).
The ecommerce webpart was implemented based on nopCommerce platform.
Services Provided:
Discovery Phase
XHTML, CSS & jQuery Development
Data Layer Development
Sitecore CMS Customization
Umbraco CMS Customization
CMS & Systems Integration
Database Development
Main Features:
Bootstrap 3
Responsive HTML5 and CSS3 tableless design
Fancybox
2 Sliders Parallax & Flex, Carousel
Isotope porfolio filtering
infinite portfolio/blog scroll
Facebook Open Graph ready
Easy to use Google Maps (gMap v3)
Latest Flickr images
Shortcodes
eCommerce template for nopCommerce
Page Templates:
Home Standard
About
Portfolio
Project
Services
Service
Pricing
Blog
Post
Contact
Project Details
Date:
March 2013
Tags:
Latest Works
nopCommerce xDalys website
xDalys.lt is the largest used car parts, motorcycles parts and other vehicles parts supply in Lithuania. All products on their e-shop are genuine parts sold from Lithuanian, Polish, Russian and many other suppliers. Parts are being gathered from all over the Europe and shipped worldwide from their warehouse in Vilnius, Lithuania.
Landmark website
We have been involved in the development of Sitecore project for Landmark. Landmark is an international personal and professional growth, training and development company.